We had this trip to Kodaikanal, Ooty and Bandipur on our bucket list for almost 3 years and even tried to plan it a few times. But either we would land up with having less number of days or it was not cold enough. Since most (if not all) hotels don't have A/C, we wanted to do this trip in winter. We also thought of splitting this trip into two trips of 3 to 4 days. Finally, we planned this trip for a week in December of 2018.

Index
Kodaikanal, Ooty and Bandipur: Trip Planning
Got a discount at Taj Savoy Ooty: Best Rate Guarantee Claim
Kodaikanal: Detailed Itinerary and Trip Report
Ooty and Bandipur: Detailed Itinerary and Trip Report
Our Itinerary in Brief
Day 1 – Fly from Mumbai to Coimbatore and drive to Kodaikanal
Day 2 – Kodaikanal – City Sightseeing
Day 3 – Kodaikanal – Offbeat Sightseeing Places like Berijam Lake
Day 4 – Drive from Kodaikanal to Ooty
Day 5 – Ooty – Offbeat Sightseeing Places like Avalanche Lake and Emerald Lake
Day 6 – Ooty Sightseeing and Coonoor Sightseeing
Day 7 – Drive from Ooty to Bandipur with en-route sightseeing and then evening safari in Bandipur
Day 8 – Bandipur – A day we spent chilling in our hotel
Day 9 – Morning safari in Bandipur, drive to the Coimbatore airport and fly back
If you're short on time, it is easily possible to split this trip into 2 different trips as Kodaikanal and Ooty are in opposite directions from the Coimbatore airport.
Map
Here is the map of the route we followed on our road trip in Kodaikanal, Ooty and Bandipur.
Flights
Nearest airports to Ooty
Coimbatore Airport – 100 Km
Madurai Airport – 225 Km
Kochi Airport – 243 Km
Bangalore Airport –  388 Km
Nearest airports to Kodaikanal
Madurai Airport – 135 Km
Coimbatore Airport – 177 Km
Kochi Airport – 271 Km
Bangalore Airport –  500 Km
I worked out various permutations and combinations and calculated the cost of flying to a specific airport along with the taxi cost. Finally, we choose to fly to and fro from Coimbatore Airport.
So our flights were:
Mumbai to Coimbatore on Air India which I got for Rs. 2500 pp
Coimbatore to Mumbai on Jet Airways which I booked on JP miles
Best Time to Visit
In general, March to May – June is the summer season, monsoon season lasts from June-July till September and the winter season is from October to Feb.
Ooty and Kodaikanal is a year-round destination. It's crowded during the summer season of April and May as it coincides with the school holidays. We visited in the first week of December. Afternoons were hot, mornings and evenings were pleasant and night-time temperatures were perfect considering hotels don't have A/C in the rooms.  Though it does get some winter rain, we were lucky as it rained only on our travel day from Kodaikanal to Ooty. However, many times it was all fogged up hiding the beautiful panoramas.
For Bandipur, the monsoon season is to be avoided. So the best time to visit is between October and May. In my experience, summers are better for the safari in India as it gives a higher chance of spotting Tigers.
Booking a Driver & Car
As always, I emailed as many tour operators as I could find and the main question I asked them was – will the A/C be switch on full time even on the hills? Most of them didn't agree or were charging too much.  At times, they agreed and later denied. Finally, I found T20Taxi who agreed to it at an extra charge.
T20Taxi Contact number – 078450 02020
Our driver, Bilal was truly a gem. He took us to all the places we wanted to visit and also didn't hesitate to take us to the off-beat places like Avalanche lake and Berijam Lake. He also took us to all the restaurants where we would like to go for lunches and dinners. As agreed, kept the A/C on even on the hills. Bilal didn't force us to any of his commission places. He was perfect, we couldn't even find one fault or problem. We certainly got everything as promised.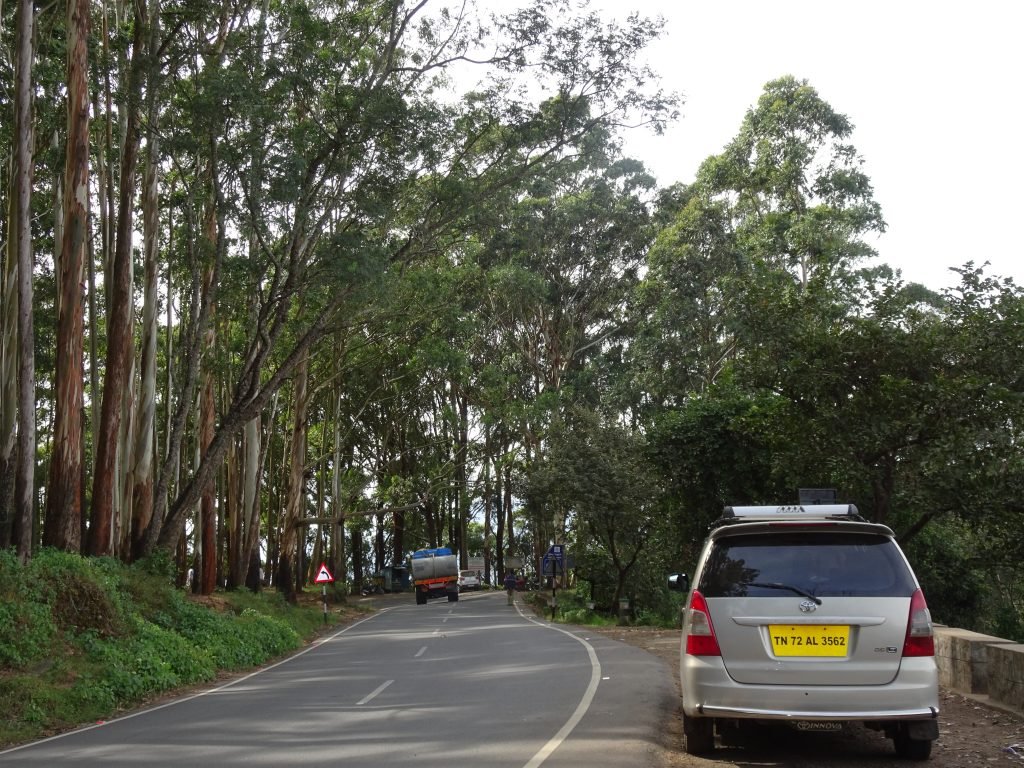 Safari Booking
For Bandipur safari, book online here.
Gypsy safari is for 1.5 hours and cost Rs. 4500. It can accommodate 6 people. We're only 4 but booked a Gypsy for 6. Therefore, we had the vehicle to ourselves. I would say it was pretty small and 6 will be a tight fit. Also, it is a truck converted into a safari vehicle. Hence it was not as comfortable as usually safari vehicles are like in Ranthambore.
They also offered a canter safari is for 1 hour and cost Rs. 350 pp.
Also, our hotel could arrange a safari through the Jungle Lodge. They were charging a whopping cost of Rs 1700 pp for a bus safari but it was for 3 hours. 
Support this blog by booking hotels through our affiliate link at no extra cost to you!
Planning a trip to Kodaikanal, Ooty and Bandipur?
Check out all the other posts in this series:
Got a discount at Taj Savoy Ooty: Best Rate Guarantee Claim
Kodaikanal: Detailed Itinerary and Trip Report
Ooty and Bandipur: Detailed Itinerary and Trip Report
Disclaimer: This is not a sponsored or a free trip – We have paid for all our Holiday expenses but I spend a lot of time researching for the best deals and at times do get a discount as I run a travel business as well. However, this post contains some (not all) affiliate links. Any purchase made through the links will help support this blog at no additional cost to you. Thanks for your support!